January 21, 2022 - 6 p.m. - The Sound
The Sound - First Church of Mercy
If you've ever sat and listened to the radio and wondered, "where did that song come from" or "I wonder if there's a story behind that song?" Then you are the person for whom this concert series has been created.

Born out of a picture that God placed on my heart at the end of 2014, Music With A Message - A Night of Family, Faith and Friends, is not your traditional "church" setting.
Held in Mabank, Texas at the Mabank Cafe it is meant to have a lot less of a concert or church service feel and more of a couple of guys sitting in your living room sharing the stories behind some of the songs that have formed their lives and molded them into the vessels that God uses to spread The Gospel.
It's a night that gives some of today's best Christian, Gospel and Inspirational Country Music artists a chance to show what a life sold out for the cause of Christ looks like in a crazy, mixed-up world. It's music that focuses on the core values that made this country so great and that we need to return to - God, faithfulness, and commitment to the "old paths", devotion, a house built on a stick-to-it marriage mentality, honor, devotion; it's an intimate dinner setting that allows for a lot of audience interaction with the artists. 

After six years of sharing one Friday night per month, there are stories of redemption, marriages restored, relationships mended and lives changed because of God's message through some simple songs sung by simple servants.
Set up as a predominately acoustic setting, you'll get a chance to hear how God worked in the lives of each of the artists to be where they are today traveling the roads for Him using music as the vehicle to spread The Gospel.
It promises to be something very different than what you have typically grown accustomed to. Once you've tried it, you won't want to miss a single event!
COVID and Music With A Message
March 6, 2020 - Over 680 days ago - we laughed, cried, and shared an amazing evening with our dear friend and Grammy-Nominated guest, Tim Menzies. It was the second time in three years that Tim had spent an evening sharing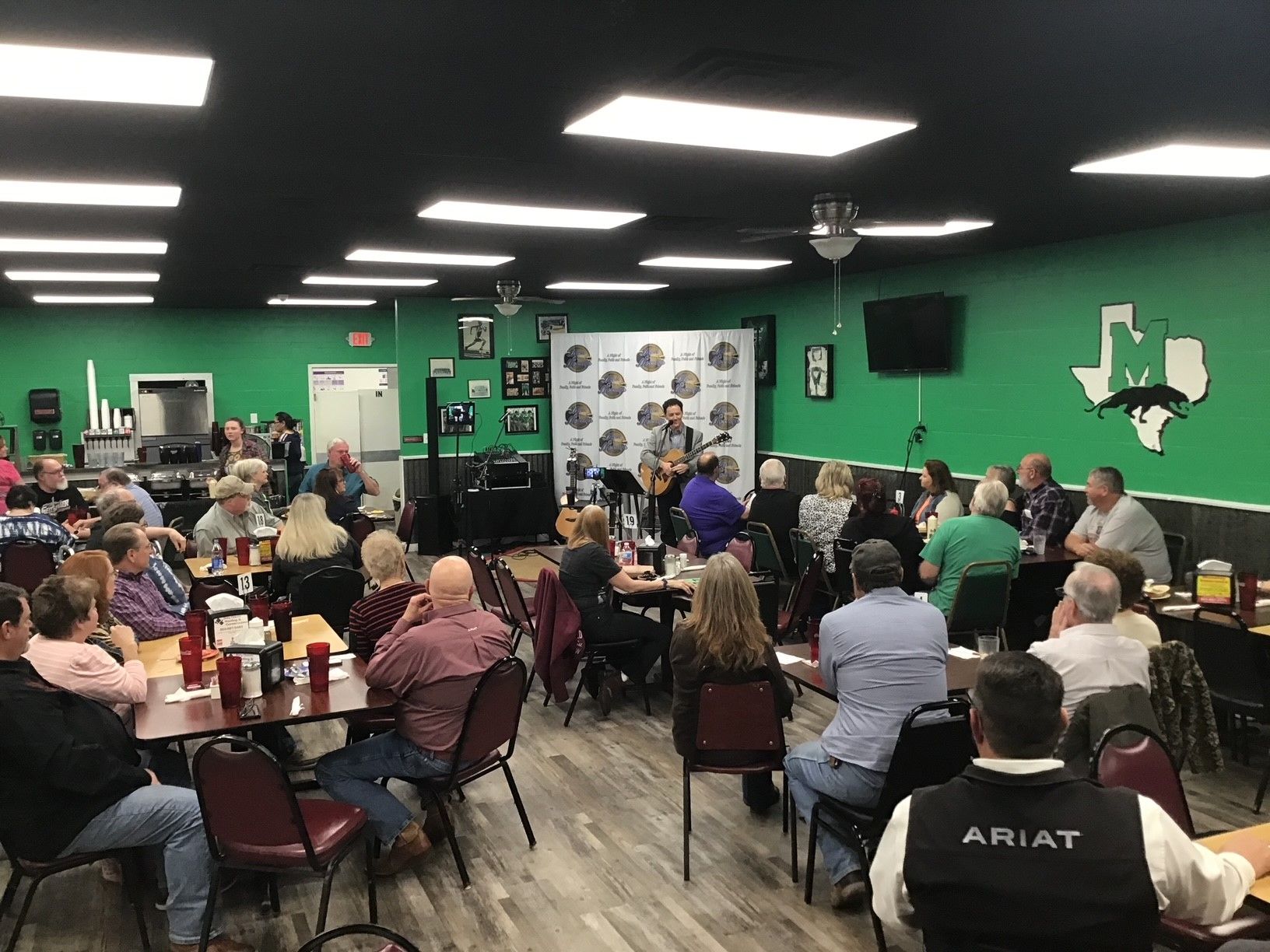 the Stories Behind the Songs from not only his newest gospel project but also touched on many of the great country songs he had a hand in writing during his time as a Nashville staff writer. 
It was another night of Standing Room Only as over 135 people listened to Tim's rich baritone voice and astounding guitar playing.
That night, praying with the 34th person in six years that had given their life to Christ inside that cafe, I had no idea that it would be the last time in almost two years that we'd see each other again. 
While we had no idea what was waiting around the corner for any of us in March of 2020...
God did. 
In these last 22 months, many of us have had to say goodbye to loved ones; we've lost dear friends and family members. We've all heard phrases and words that we would just as soon never hear again. Things like, "six feet apart," or "social distancing," and "shelter in place."
We went months without seeing family members, holding the hands of our parents or grandchildren; and we've all wondered when we would get back to some semblance of normalcy. 
While I don't ever want to return to the frenetic pace of what "normalcy" looked like pre-March 2020, I am ready to return to a place where we can live in "community" once again.
And a big piece of that - at least for me - is returning to Mabank Cafe, sharing some of Victor's amazing fried catfish, getting a hug from Loretta as I walk in the door, and then hugging the necks, shaking the hands and seeing all the smiling faces of those that had become a part of the 100+ monthly regulars of Music With A Message. 
I look forward to sharing more Friday nights of Family, Faith, and Friends as we re-launch Music With A Message this January 21, 2022.