Lloyd Randolph Obituary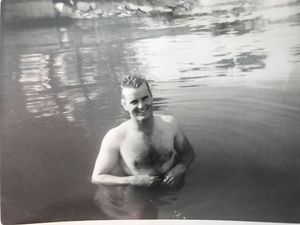 Lloyd Randolph, 87, of Kingsville, Texas passed away May 24, 2017. He was born in Kingston, TN on January 9, 1930. 
Lloyd graduated from the 3rd Grade and dropped out of school to start working and help his family during The Depression. He was a U.S. Army Veteran serving until his Honorable Discharge in 1950. 
He was married to Matiana Randolph, also of Kingsville, on January 25, 1950. Lloyd worked as a mechanic in Kingsville for Patton's Automotive for over 30 years. He had a passion for his wife, his kids, playing his guitar and writing music, working outside on their land in Ricardo, woodworking and spoiling his grandkids. 
He is survived by four children – Luis Chapa III (Estela), Randy Randolph (Vickie), Lori Marshall (Gabrielle) and John Randolph (Cindy); nine grandchildren – Vanessa Gibson, Luis Chapa IV, Jennifer Jones, Jason Randolph, Jarrod Randolph, Chandler Marshall, William Marshall, Lacie Kesterson and Alyse Randolph; and 12 Great Grandchildren. 
Lloyd Randolph Eulogy 
January 9, 1930 (DASH) May 24, 2017 
On behalf of our family, my mom, my brothers and sister, our spouses, I want to say thank you all for coming to share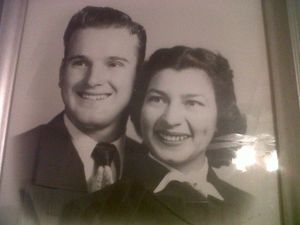 this day of celebration with us. I know many of you here, but for those that I haven't met, I'm John Randolph, the youngest son – or as he always introduced me – Lloyd's baby boy. 
When we sat together yesterday and talked about what we wanted today to look like, the one thing that we all agreed on is that Daddy would want today to be a celebration – not a somber, sad occasion. God tells us that there is a time for all things including mourning. In Ecclesiastes, Solomon - the wisest man ever to be on earth wrote - 
There is an appointed time for everything. And there is a time for every event under heaven— 
A time to give birth and a time to die; 
A time to plant and a time to uproot what is planted. 
A time to kill and a time to heal; 
A time to tear down and a time to build up. 
A time to weep and a time to laugh; 
A time to mourn and a time to dance. 
If we jump down a little farther in that passage, Solomon wrote: 
A time to be silent and a time to speak. 
If you'll indulge me today, I'm going to speak a little for our family about what Lloyd Randolph's DASH stood for over the last 87 years. 
My dad was a quiet man that didn't speak loudly, he didn't command attention and he didn't long for the spotlight. This world is full of men that seek to lead the charge; men who dream big dreams that come up with the ideas that give us things like space travel, airplane flight or the ability to cure ugly diseases. But those men with their grand dreams, would be nothing without men like my dad. 
Men who show up every day to do their jobs without complaining; 

Men that understand what your word, your bond and your handshake mean.

Men that believe the words "till death do us part" really mean Till Death Do Us Part 

Men that don't run or back down from life's challenges 

Men who know that you can darken the door step of the church every time it's open, but what really matters is how you live your life between Sundays 

Men that may not be able to quote scripture verse by verse, but live out God's word in their everyday actions 
These traits are the traits that my dad embodied. 
Over the last few weeks and months as his health failed, there were many friends and family members that reached out with a message or note to say things about our dad and the consistent words I read from others were things like: 
Strong 

Dependable 

Man of character 

Integrity 

Caring 
But there were a couple of phrases that kept reoccurring – 
Some comment about his smile 

Something about his humor and funny stories 
Daddy had a way of bringing perspective and levity to any situation. Many times, it was through his music or songs he'd sing or write. Songs like: 
Chicken ain't nothing but a bird 

That fat gal of mine 

I love to go swimming with bole-legged women 

Or the title song to what I believe would have been a HUGE COUNTRY HIT!! You're the hangnail of my life and I can't bite you off. 
He also used that music to convey his love for life; his love for our family but more than anything, his love for his wife. This was another way that Daddy modeled God's word. I've read the bible cover to cover a couple of times and when I read about what it calls for me to do as a father – a parent – it says things like: 
Train up a child in the way he should go 

Bring them up in the discipline and instruction of the Lord (and he did believe in discipline) 

The rod and reproof give wisdom 

Discipline your son, and he will give you rest, he will delight in your heart 
Nowhere in God's word does it tell us as husbands to love our kids more than life; more than ourselves or more than our wives 
But when it talks about a husband's call and his responsibility for his wife, it says: 
Husbands, love your wives, as Christ loved the church and gave himself up for her…In the same way, husbands should love their wives as their own bodies. He who loves his wife loves himself. For no one ever hated his own flesh, but nourishes and cherishes it, just as Christ does the church 

Peter wrote "husbands, live with your wives in an understanding way, showing honor to the woman as the weaker vessel, since they are heirs with you of the grace of life, so that your prayers may not be hindered. 
Our house was not perfect. Their marriage was not perfect. But through it all, the one thing that we always knew as children was that Daddy loved mom and that would never, ever, ever change.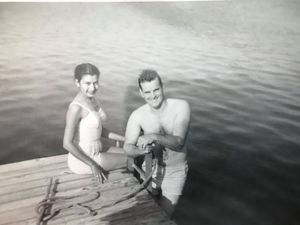 When I was 14-years-old, mom and I got into a fight. I'm not sure what the fight was about but when you're 14, you really don't need a reason to fight with your parents. On this day, it was the middle of the summer so mom was at home since school was out and her tag-team partner known as my dad was at work. As mom and I bantered back and forth, she finished her tirade with a "just go to your room" command. To which I responded, "no problem! I have all I need in my room. I have a TV, stereo and phone." 
Mom followed me into my room and before I could turn around, she was standing on her tip-toes getting ready to slap me. Being almost 6-feet-tall and mom being her wonderful 4-11 on a GREAT DAY, she was having trouble hitting me as I bobbed and weaved to make her miss. As she faked with a right and was coming with a left, my reflex was to reach up and grab her hand. 
At that point, mom's eyes began to water and she asked me "are you going to hit me?" I quickly answered her, "no, I'm not going to hit you but please don't try to hit me again!" I released her arm and she retreated from my room. 
Growing up playing baseball, we had a daily ritual during practice days. Mom would drive me 15 miles to town and drop me off at practice and would wait for Daddy to arrive from work. She would bring him dinner, hug and kiss him, get back in her car and return home. Daddy would then sit and eat his dinner on the hood of the car, wait for practice to end and he and I would make the 15-mile trek back to the house. On this night though, mom was waiting to share with him the events of the day. As my mom talked and cried, my larger-than-life dad wrapped his arms around my mom while his gaze was burning a hole over the top of her head and into my chest! I knew my life would soon be ending. 
Mom left and my wait for the execution began!! 
When practice ended, Dad and I began the ride home and I felt like a prisoner being escorted down the hallway to his doom! For 15 miles, Daddy and I talked about baseball, about practice, things he saw that I did right, things he saw that I needed to work on, etc. Nowhere on the drive though, did he mention anything about the day's occurrences. 
As we pulled into the driveway, I thought I had made it home free!! As I opened the door, my dad gently squeezed my leg and said "close the door son." A verbal exchange then began that has marked my life more than any father-son talk ever has. : 
"Your mom told me what happened today." 
"Let me explain Daddy!" 
"Son, I really don't care about your side of the story. Let me make something crystal clear to you. I love you. I love you more than you will ever comprehend, but make no mistake son – I love your mom more than I will ever love you. She was here before you got here and she'll be here long after your gone. She has been my world for most of my adult life and will continue to be till the end of time. So, if you ever raise your hand to your mom again, please do me and you a favor – DON'T BE HOME WHEN I GET HERE!" 
My dad said more to me about my mortality and about his love for my mom in that brief discussion than any birds-and-bees or "son this is what it means to be a husband" talk ever could have. My dad loved my mom then and he loved her till the very end. In fact, it's my belief that my dad lived as long as he lived because he was trying to outlive mom to make sure she would be taken care of till the end. 
Two weeks before Daddy died, Luis was putting pictures up in their room and the first picture he put up was a picture of mom. Daddy sat up from his reclined position in his easy chair, looked at the picture and said "that's the most beautiful woman that I've ever seen and I love her!" Luis looked at Daddy and said, "I know. I know you do." 
About a week later, Luis and I were talking and he said that he felt the reason Daddy was still holding on was that he was concerned about who was going to take care of mom when he was gone. Two days later Luis had Lori talk to Daddy on the phone to make sure he knew that if anything happened to him that we would love Mom; we would take care of her and he had nothing to be worried about. 
The day after Daddy and Lori talked, he sat mom down on the edge of the bed as they were getting ready to go to sleep and he said: 
"Mama, there's something I need to talk to you about."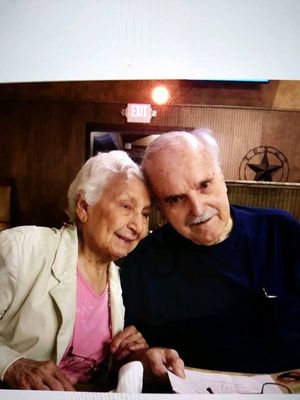 She said, "what's that?"
He said, "you need to know something and I want you to hear it from me. I don't want you to be surprised or hear it from anyone other than me. He said, mama, I'm dying."
Those of you that know my mom know that her response was something akin to "Daddy, stop that. Stop talking like that." 
He continued to tell her that he loved her; that he had always loved her; that he would still love her and he would be there to watch over her. He let her know that she would be OK. That he had talked to Lori and Luis and that they assured him that she would be taken care of. He told her not to worry; he told her to keep living and that he could not have imagined spending life with anyone else by his side.
 
Two days later he went to sleep and for the most part, was that way until he took his last breath on Wednesday morning around 6 a.m. 
As I prayed and wondered what my dad would want said about him today as I delivered his eulogy and what his legacy was that he left behind, it was clear to me that Lloyd Randolph wouldn't care if you remembered him as a great mechanic or wonderful father or loving/doting grandfather. He could care less if you remember his guitar playing ability or his songwriting. What he would want you to know is that he loved, adored and would have gladly laid down his life for his bride – Matiana Randolph. 
Men, husbands, he would want you to know that any love worth having is worth fighting for DAILY! 
He would tell you stay the course; hug her daily because that's how he greeted my mom every night that he walked in the door from a long, hot day of working on cars; tell her you love her more than she believes she needs to hear it. If you do this, your dash will not just be a grammatical mark on a stone. It will be a line – a legacy – that honors God; that helps family roots grow deeper and will impact the world more than any song or story or anecdote will ever do. 
Thank you Daddy for your Dash Between the Dates!